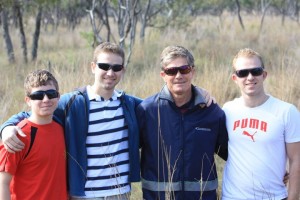 The most important thing to be a complete person is to be free, to be alive and to live with purpose.
Imagine if you could live a life with no boundaries, to impact the lives of those you love, to break through average and live a remarkable life!
Not everyone is ready to become the most powerful version of themselves.
For those who want to unleash the spirit inside and challenge themselves to push the boundaries of what is possible in their lives, it is time to live your calling.  Life is short and no-one wants to live below what they know they are truly capable of.   Its not about money, its about living the greatest possible life you are destined for.
Pieter Albertyn is a Life Consultant, Mentor and Coach who helps people grow into a life of significance and success by unlocking the tools to transition to the next level.
In gymnastics I experienced the value of a good coach.  One would not venture a challenging and often dangerous skill without the assistance and watchful eye of a coach.  The guiding hands and words of a competent coach in acquiring difficult skills is the difference between success or failure and possible injury.  The coach is someone who elevates a top performer's accomplishments. I have come to understand that these principles are equally true for life skills, entrepreneurs and business leaders.
Simply put, a coach is the catalyst that can make tomorrow's dreams  today's reality.
Contact me today to start a conversation about how you can enhance your existing skill set and unlock your untapped potential to achieve your dreams.
You can contact me via e-mail or Mobile +27 (0)72 018 7921.
I love to Coach…
People who are ready to take action and make changes
Those who are setting out to pursue their calling
People with a big dream

People who are in transition..

Young people entering new life challenges \ phases (manhood / womanhood)

Students entering a professional career

Parents starting with a family

Starting the 'second half' of your life
 "… sometimes we need someone who will inspire us to be what we know we could be."
Contact Information
Associations
In contrast to seminars or conferences, coaching is a highly personalized endeavor that assist with focus, development and technique, but also creates positive energy and momentum to generate results that consistently exceeds expectations.
Whether you are an aspiring or an established leader in a private business, a big corporation a non profit organization or serving on a board, there are times when a second set of eyes can help you discover those hard-to-see puzzle pieces that ultimately completes the big picture and releases new opportunities for success.
I coach, mentor and teach on leadership, productivity, vocational effectiveness, personal development, personal relationships, spiritual growth and sporting career development. My goal is to provide clarity and synergy through a well established model, techniques and spiritual principles for your personal and professional life. I am always interested in another perspective and would like to invite you to interact freely on matters at hand.
What is Coaching, Anyway?
If you want to understand coaching, take the mental images you have of mentoring, counseling or consulting-and put them aside! Coaching is completely different.
The first difference you'll notice when you work with a coach is that coaches are truly great listeners. That's because the focus of the coaching conversation isn't on what the coach has to tell you, but on what your objectives are. Coaches believe that if we simply listen intently and ask intelligent questions, God will lead you to great insights and effective solutions to the challenges you face. It is hard to think something through on your own (especially if it is an emotionally-charged issue), because what one needs is clarity.
You'll also figure out early on that your coach is not a "teller" or an advice-giver. Coaches don't tell you what to do, because we respect the stewardship God has given you over your own life. The coaching approach is based on three core values: that the process of change starts with God (and not with the coach!), that working with your internal motivation (instead of using guilt or pressure) and helping you take responsibility for your life maximizes growth, and that believing in you is tremendously empowering.
 Coaches do primarily two things:
– they help you think things through, and
– they help you getting things done.
Coaches help you think by letting you freely explore your own ideas, by holding up the mirror, and by offering honest feedback. Because your coach is on your side, you can say what you are really thinking. And that's often where the real solutions come from. The coaching relationship also provides a structure for getting things done. You'll receive the kind of support, affirmation, accountability and follow-up structures you need to maximize your performance. You can get more done with a coach than you can on your own.
The Coaching Process
The Aim of Coaching
Coaching is a solution-focused process that for any given challenge helps you clarify what you want and determine the steps you need to take so you can get it. Very often, even when we know what we want we find ourselves unable to sustain our motivation. Coaching helps you to focus on what is important for you until you achieve what you set out to do.
Approach
My style of coaching is based on principles I have mastered as gymnastics coach. We start with what is best for you!  To know what is your 'sweet spot' is often not in your conscious mind and therefore we have metrics we apply to identify your focus and goals.
The process involves a systematic process of you answering some very deliberate and powerful questions. This opens up new possibilities and opportunities that I will guide you through and coach you to unlock your potential.
At all times you have full control of the process and you can rely on me to challenge you to uncover and explore additional possibilities.
You may already have a particular issue or issues in mind you'd like to address – whether it is coping with your fears or achieving a goal, or breaking a bad habit. Even if you're just generally feeling stuck and are not sure where to start, take the first step of getting in touch now to help yourself get back on track.
Coaches Are 

Change Experts
In short, coaches are professionally trained experts in the art of making life changes. Using tools like support structures, powerful questions, assessments, authenticity, accountability and action planning, I'll help you focus on what's most important and get it done.
"Mentoring is imparting to you what God has given me. Coaching is drawing out of you what God has given you."  Dale Stoll